Free shipping
Send Aura to a loved one with free ground shipping anywhere in the US. Add photos ahead of time to make it special.
Happiness guaranteed
Live with Aura for 45 days. If you don't love it, send it back for a full refund.
Support you can count on
Questions? Problems? Our Customer Support team is here to help with real-time email and real people on the phone. Drop us a line anytime!
Product Details
Dimensions
10" x 8.25" x 1.5"
11.75" x 9.75" x 1.5"
Display Size
9.7"
Screen Resolution
2048px x 1536px
Connectivity
802.11b/g/n 2.4GHz WiFi
Phone Compatibility
iPhone & Android
Works With
Google Assistant
Alexa
Included Accessories
Rotating stand for tabletop display
5' custom braided fabric power cord
Rotating stand for tabletop display
5' custom braided fabric power cord
Frame Weight
1.7 lbs
2.5 lbs
Shipping Weight
4.12 lbs
5.14 lbs
#MyAura
cherising.lifes.sprinkles
estiekessler
nicki.entenmann
erinwelch_
fouroneohblog
haley_stutzman
sub_folk_collective
styledbyshishi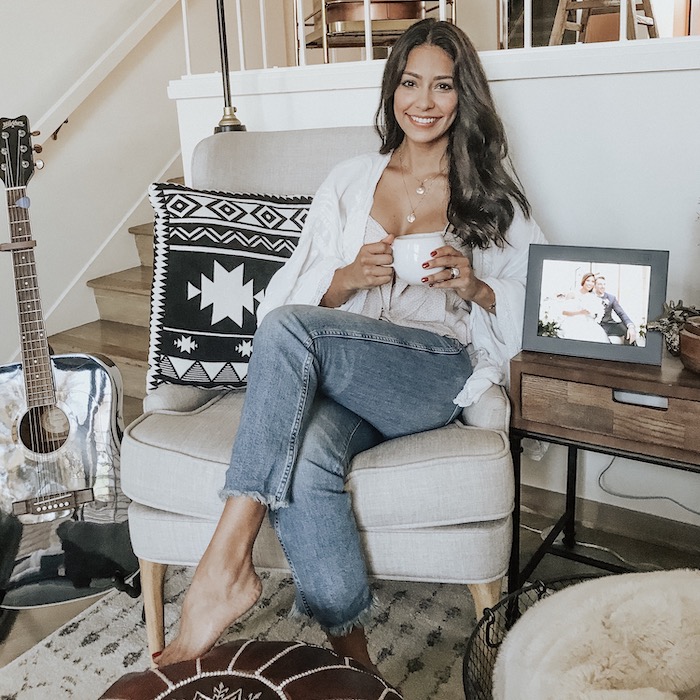 manuelaarbelaez
greybirchdesigns
simplelittlesoul
everything.kris
nicoleisapetersen
styledbyshishi
Frequently Asked Questions
Can I set up the frame ahead of time as a gift?
Yes! You can add photos to the frame and invite family members to join before it's even set up. Include a gift message along with a featured photo for a special gift they won't forget. All Aura frames come in a beautiful gift-ready box without any pricing information. Please note gift setup is only available for frames purchased through auraframes.com.
How many photos can I add to the frame?
You can add an unlimited number of photos to the frame. The Aura app syncs with your photo library and the frame communicates with our secure cloud server to retrieve photos to display on the frame. No subscription fees, no storage limits.
Does Aura require a WiFi connection to work?
Aura must be connected to WiFi at all times in order to display photos. This is important so that Aura can always show the latest photos on your frame as you take them, and also so that it can download software updates to the frame.
Do I need to be near the frame to add photos?
The great thing about Aura is that you can easily add photos using the Aura app, even if you're miles away. Once the frame is online (you will need a smartphone with the Aura app to connect the frame to WiFi), you can continue adding photos from anywhere in the world - no need to be on the same WiFi network or near the frame. Open the Aura app to see what photo is currently on the frame or share a photo instantly!